Products

3M Attest
®

Steam Chemical Integrators
(Formerly 3M SteriGage
®

Steam Chemical Integrators)
Same great product with a brand new name!
Provide a simple, accurate method of assuring that all conditions necessary for sterilization have been met during a sterilization cycle. Integrators are held together with a temperature-resistant, pressure-sensitive adhesive. Information is displayed in a precise, easy-to-read manner to tell user whether to accept or reject the pack, or load immediately after the sterilization cycle. Steam sterilization integrator can be used in all steam sterilization processes, including vacuum, gravity, and flash sterilization.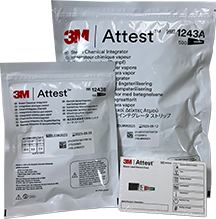 3M Attest Steam Chemical Integrators consist of a paper wick and steam and temperature sensitive chemical pellet contained in a paper/film and foil laminate envelope. Steam enters the permeable topside of the device - the chemical pellet melts and migrates as a color along the paper wick; the distance or extent of migration depends on exposure to steam, time, and temperature. The migration is visible through a window marked Accept or Reject. The color should enter the Accept window for an Accept result. If the color has not entered the Accept window, a reject result is indicated.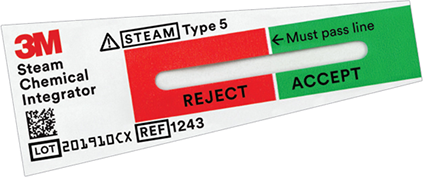 © 2021 Pharmacal Research Laboratories, Inc.