Service
Pharmacal offers specifically designed custom built and/or commercially available chemical dispensing equipment utilizing peristaltic pumps, conductivity systems and temperature compensated probes.
These components have over 40 years of impeccable operating history, requiring little maintenance and low down time. They are water and corrosion resistant. This equipment is specifically designed to operate under high temperature and moist conditions found in animal cage washing areas.
With integration of the Pharmacal Conductivity Control (PCC), or Pharmacal Timed Injection (PTI) dispensing systems means no external formulas to choose from. This provides ease of use for the machine operator and eliminates chemical waste and misuse.
Pharmacal PCC, PTI and dispensing systems are designed to take full advantage of rack and tunnel washer microprocessor controls with multiple washing operations and will be configured to deliver precise amounts of chemicals into your machines.
Calibration and Inspection of Cage Washing Chemicals
We will accurately measure the amount of chemicals being used in the cage washing operation and insure that they are within the established recommended ranges. We will consult with management and supervisors to insure satisfaction with the products and dispensing equipment. We will inspect clean cages to insure the quality of the overall cage washing operation. And we will inspect the general operation and condition of cage washers and dispensing equipment.
Equipment


Besides our automatic chemical dispensing systems for your Rack, Tunnel and Bottle washing machines, Pharmacal offers a complete line of dispensing equipment to assist your technicians . Below are a few reason why these devices are essential.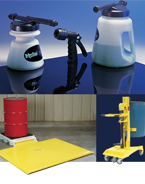 © 2021 Pharmacal Research Laboratories, Inc.