Products

In addition to our automatic chemical dispensing systems for your Rack, Tunnel and Bottle washing machines, Pharmacal offers a complete line of dispensing equipment to assist your technicians . Below are a few reason why these devices are essential.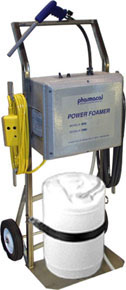 Pharmacal Power Foamer produces a thick long-lasting foam which will cling to vertical and horizontal surfaces.
Foaming provides enhanced cleaning action and complete coverage while minimizing splash back.
PRL Power Foamer Item# 99190
PRL Power Sprayer Item# 99191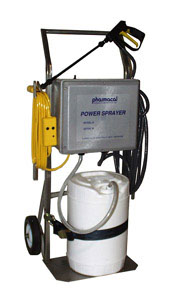 Pharmacal Power Sprayer is an electric, self-contained spraying unit which produces a uniform spray pattern for maximum coverage.
Designed for use with a wide range of chemicals including acids and alkalines.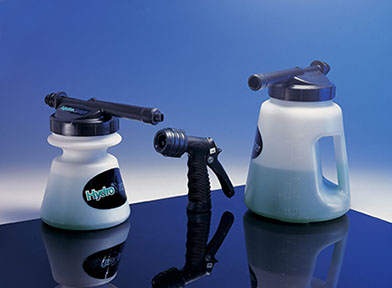 HydroFoamer/Sprayer Hose End
Hydro Foamer/Sprayer hose end proportioners combine automatic dilution with convenient control of where and how solution is applied. Foamers provide a thick, rich foam for more "cling" time on the surface being cleaned. On and off functions are controlled using a trigger on the spray gun. To rinse, the concentrate container is disconnected via a quick coupler. Kits, which include a sprayer, provide a wash-rinse-sanitize capability.
Clidox-S Mixing Station allows for total product quality assurance and safety. Clidox-S (Chlorine Dioxide) must be prepared on site, at the correct dilution rates, and in the proper sequence. Clidox-S Mixing Station performs these functions flawlessly and accurately.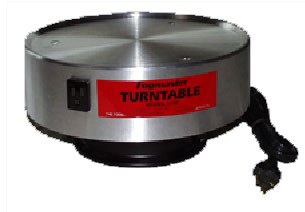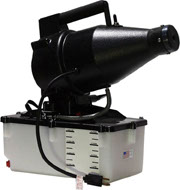 A ULV sprayer generates fog droplets by using a high volume of air at low pressure. Such a system enables droplets of a more precise size to be generated. The absence of a large number of very small droplets will limit the penetration of the fog into highly obstructed areas. The ultra precision metering valve assures particles under 20 microns regardless of flow rate and viscosity of material.
The 99055 Turntable permeates a full area radius by continuously revolving. This insures penetration into every corner and crevice. Used with the 99056 timer, the rotation of the turntable automatically shuts off within your prescribed time. Rugged aluminum construction.

The 3-wire timer improves labor effiency by precisely controlling application time. Shuts off after 0-60 minutes, per your setting. 15 amps 125 Volts AC. U.L. approved. CSA Listed.
Hydro Streamline
(Push Button Proportioners)
Hydro's Push Button Proportioners represent the latest in chemical management systems, automatically diluting solutions into spray bottles, mop buckets, auto scrubbers or other containers simply at the touch of a button. These units eliminate manual mixing, so technician preparation time is drastically reduced.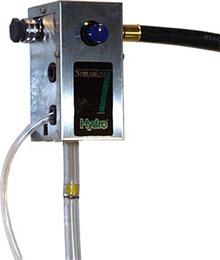 Chapin Acid Sprayers handle the rough cleaning jobs. Made with heavy-duty polyethylene tanks, Viton seals and gaskets for maximum chemical resistance. This unit has an adjustable poly cone nozzle which sprays from a coarse stream to a fine mist. It is also equipped with polymer shut-offs with lock-off feature to prevent accidental spraying.

Pharmacal carries a wide variety of pumps, sprayers bottles and mounting brackets. We carry wall mounting brackets for sizes ranging from 16oz bottles up to 5 gallon containers.


Our Clidox-S Spray Bottles are specially treated HDPE to be more chemical resistant and resist cracking.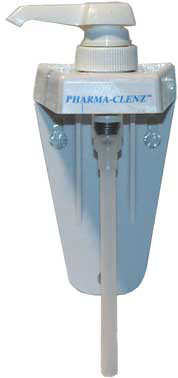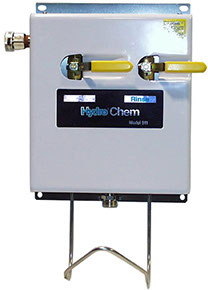 HydroChems can apply diluted solution in a foaming or spraying mode, depending on the chemical and hose attachment used to apply it. Models for applying one or two products are available, both providing high volume rinse capability. The wash/rinse/sanitize capability of the two-product system is great for dog and pig runs or other large animal housing.
HydroChem 918 - Item# 99101
HydroChem 919 - Item# 99102
PRL High Volume Proportioner
Pharmacal's High Volume Proportioner can apply diluted solutions with minimal water pressure loss. This stainless steel unit is wall mounted and will provide a high pressure wash and rinse with the simple turn of a ball valve. Ideally suited for runs and fixed cages where water pressure is a must for proper cleaning.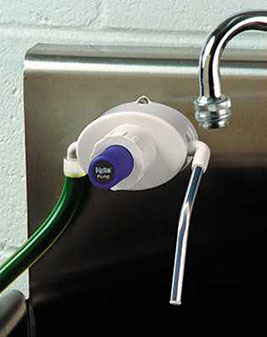 HydroPump dispenses liquid into buckets, sinks or other reservoirs without lifting or tipping the container of concentrate. It facilitates dilution by delivering 30cc (1 oz., 3/4 oz., or 1/2 oz.) of concentrate each time it's pushed. HydroPump works with water-thin or viscous products. Ideal for manual warewashing or in janitors closets for filling mop buckets.

© 2021 Pharmacal Research Laboratories, Inc.