Products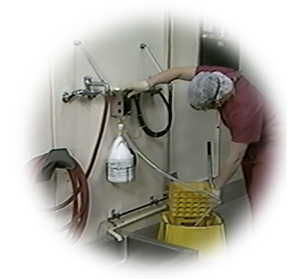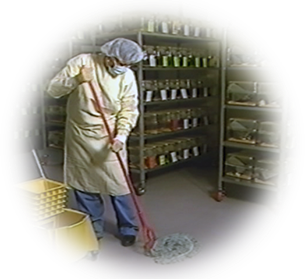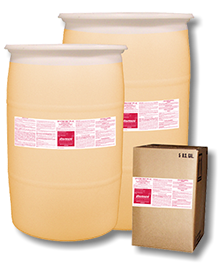 ONE STEP NEUTRAL pH DISINFECTANT
GERMICIDAL DETERGENT AND DEODORANT
Parvocidal • Virucide • Disinfectant
Cleaner • Deodorizer • Fungicide • Mildewstat
A multi-purpose, neutral pH, germicidal detergent and deodorant effective in hard water up to 400 ppm (calculated as CaCO3) in the presence of a moderate amount of soil (5% organic serum) according to the AOAC Use-dilution Test. Disinfects, cleans, and deodorizes in one labor saving step.
Recommended for use in hospitals, nursing homes, colleges, commercial and industrial institutions, office buildings, veterinary clinics, animal life science laboratories, zoos, federally inspected meat and poultry plants, pet shops, kennels and breeding establishments. Disinfects, cleans, and deodorizes the following hard nonporous, inanimate surfaces: floors, walls, metal surfaces, stainless steel surfaces, glazed porcelain, plastic surfaces (such as polypropylene, polystyrene, etc.).
Typical Properties:
Color:
Odor:
pH:
Specific Gravity:
Viscosity:
Storage/Stability:
Recommended for use in Federally inspected meat and poultry plants, as a disinfectant agent for use in all departments. Food products and packaging materials must be removed from the room or carefully protected. Use product in accordance with its label. All surfaces must be thoroughly rinsed with potable water.
Dilution:
Quatricide PV-15 is used at a dilution of 1:256 or 1/2 ounce per gallon of water. (2.25 ounces per gallon for Canine Parvovirus** (CPV), Rabies Virus)
Orange
None
6.0 - 10.0
1.0
Water Thin
1 1/2 Year
PRODUCT (Sizes Available) 4/1 Gallon Case 5 Gallon Cube 30 Gallon Drum 55 Gallon Drum
Quatricide® PV-15 64020F 64025F 64030F 64055F
© 2021 Pharmacal Research Laboratories, Inc.