Products

Virkon
®
S
(EPA Reg # 39967-137) has demonstrated effectiveness against viruses similar to 2019 novel coronavirus (SARS-CoV-2) on hard non-porous surfaces. Therefore, this product can be use against 2019 novel coronavirus (SARS-CoV-2) when used in accordance with the directions for use against Feline calicivirus on hard, non-porous surfaces.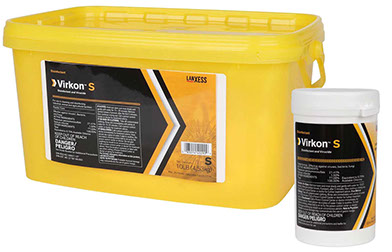 Virkon

®

S

is a broad-spectrum disinfectant/ cleaner for use in an animal research facility. It is fragrance-free and is available in easy-to-use packets of a very quick dissolving granular powder.

Virkon

®

S

is an excellent cleaner, used extensively as a vehicular undercarriage disinfectant/cleaner and boot wash during the FMD outbreak in Europe.

Virkon

®

S

is perfect for critical animal facilities where a pre-measured amount of disinfectant is desirable for an error-free, reliable disinfecting regimen.

Virkon

®

S

is effective against numerous microorganisms affecting animals, including viruses, gram positive and gram-negative bacteria, fungi (molds and yeasts), and Mycoplasma.

Virkon

®

S

(Potassium Peroxymonosulfate/ Sodium Chloride) is indicated for all your disinfecting and cleaning needs.

Virkon

®

S

solutions are stable for 7 days after mixing.
Powder & Virkon

®

S Tablets

Now in an easy to use tablet - Perfect for areas in animal facilities requiring the convenience of a pre-measured, error free disinfecting

.
Typical Properties:
Color:
pH:
Specific Gravity:
Viscosity:
Storage/Stability:
Yellow
2.5
1.0
Water Thin
2 Year
© 2021 Pharmacal Research Laboratories, Inc.