Products

CaviWipes is a cleaner and disinfectant in one. CaviWipes are durable, nonwoven, nonabrasive towelettes that offer quick, easy-to-use, time-saving convenience. They're recommended for use on non-porous surfaces and fixtures.
CaviWipes is ideal for operating rooms, surgical centers, neonatal units, medical and dental operatories and other critical-care areas.
Kills TB in 3 minutes, and MRSA, HIV-1, HBV and HCV in 2 minutes
For use on hard non-porous surfaces
Durable, nonwoven towels won't bunch up during use
Flat Packs minimize storage space, unclutter counter space, and are resealable
CaviWipes Kill Claims
3 minutes
Mycobacterium tuberculosis var: bovis (BCG)
Methicillin Resistant Staphylococcus aureus (MRSA)
Pseudomonas aeruginosa
Salmonella enterica
Trichophyton mentagrophytes
Staphylococcus aureus
2 minutes
Vancomycin Resistant Enterococcus faecalis (VRE)
Staphylococcus aureus with reduced susceptibility to vancomycin
Hepatitis B Virus (HBV)
Hepatitis C Virus (HCV)
Human Immunodeficiency Virus (HIV-1)
Herpes Simplex Virus Types 1 and 2
Influenza A2 Virus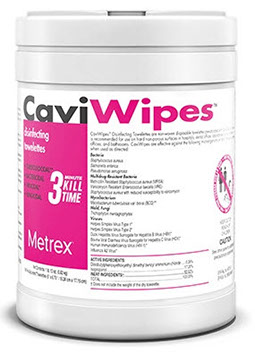 PRODUCT (Sizes Available) Item # Units/Box Wipes/Unit Cloth Size
CaviWipes Large
CaviWipes X-Large

© 2021 Pharmacal Research Laboratories, Inc.